Fourth Reunion of the USS Plymouth Rock
---
USS Plymouth Rock Association
a poem by Margurite Elderidge
Time has passed, it's 2003, so many miles between you and me, letters and e-mails have passed in review bringing me back into contact with you.
It's back to Waukeegan, to the training command to witness graduation and look over the land
Eight years have passed, since we first met, but wonderful memories have developed; you bet.
Some officers are changing, positions are new with challenges facing each one of you.
Our President, co-ordinator whose tireless efforts to keep us intack, Harry Anderson is retiring to the sidelines as Ships Historian.
A new President, Tom Wagner has stepped to the plate to lead and to guide us; Ohio's his state.
He now has a backup, Vice President they say, he from New York and is Roger Lemay
Bob Nichols, our Treasurer, handed in his report, he's done a great job and is really a sport.
The Secretary, whose job is to record all the minutes, send out the letters, keep tract of all meetings has taken on the responsibility of an e-mail, for our pleasure.
He is very efficient, keeps up with all pals, he's from New Hampshire, his name, Bill Provencal.
Brad Baldwin, from Connecticut takes care our our stores reorders, in necessary, when we ask for more
Norm Jepson from Michigan and Rick Mathis from Arkansas are Reunion Coordinators for up coming reunion. You'll see them next year, if you all go to Branson
Just look in our website www.ussplymouthrock.com, all you have to do is merely sign on.

Reunion Attendees, 2003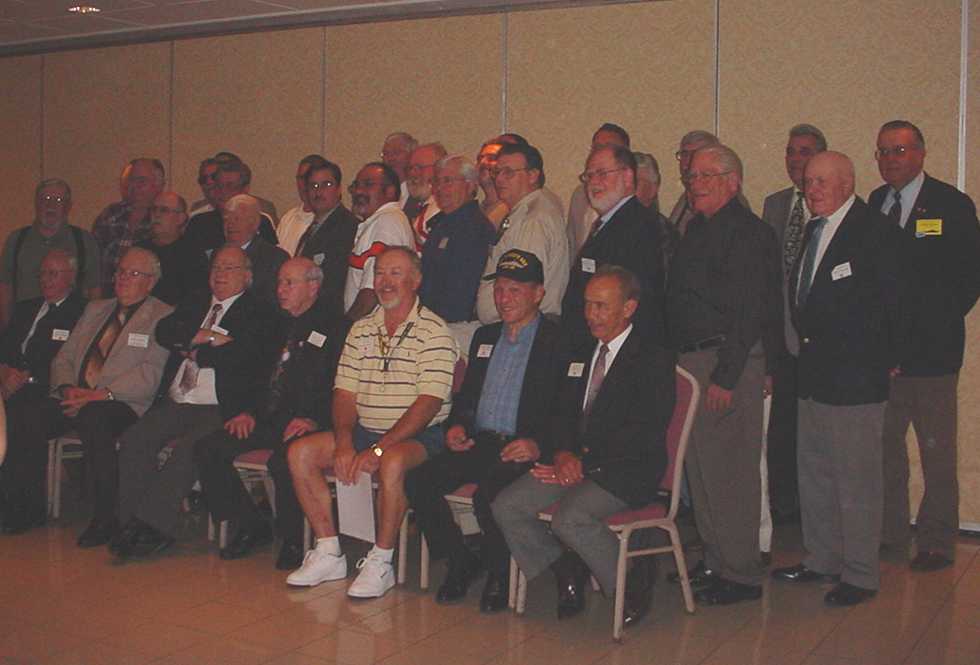 Shipmates began arriving on Thursday, June 5, 2003 for the fourth reunion being held at the Ramada Inn, Waukeegan, IL. The reunion coordinator was once again Harry Andersen, who rescued the reunion from not taking place. Our thanks Harry for a great job. We assembled in the Reception room at the hotel to quaff a few brews and renew old acquaintances. We had 65 shipmates and their guest in attendance.
Pictures from the Reception Room (Click picture to enlarge)

| | | |
| --- | --- | --- |
| | | |
| Linda Provencal Jackie Wagner and Linda Stull renewing old acquantainces | Harry Andersen dispensing advice to Shorty Cyr. | Paul Mohawk in full dress blues proving a point with Shorty Madill |
On Friday, most of us attended the Recruit Graduation at NRTC, Great Lakes. To say the least, it was very impressive and we had some of the best seats in the house. Friday afternoon we conducted our Business Meeting for the Association. A new slate of officers were nominated and elected, namely, Tom Wagner, President, Vice President Roger Lamay, Secretary Bill Provencal, Treasurer Paul Mohawk, Ships Historian Harry Andersen, Webmaster Bill Provencal, Storekeeper Brad Baldwin, and 2004 Reunion Coordinators Norm Jepson and Rich Mathis. Friday evening we held our banquet, guest speaker for the evening was LCDR Scott Mangoes, MC, USNR who spoke on the problems of Arthritis and Osteoporosis and what we can do to relieve some of the problems.
Pictures from Graduation Ceremony (Click picture to enlarge)

| | | |
| --- | --- | --- |
| | | |
| Recruits passing in review | Recruit Command Chorus | Color Guard at parade rest |

Business Meeting (Click picture to enlarge)

| | |
| --- | --- |
| | |
| The 2003 Association Business Meeting | The 2004 Reunion Coordinators - Norm Jepson and Rich Mathis |

The 2003 Association Banquet (Click picture to enlarge)

| | |
| --- | --- |
| | |
| Jim Freeman at the banquet | Harry Andersen's grand daughter preparing to sing America the Beautiful |
On Saturday, we boarded the bus and rode through the Illinois countryside to visit the Volo Car Museum. The museum consisted of four huge showrooms that contained everything from a 1917 Packard to the "General" of the Duke's of Hazard to a 1967 Shelby GT500 Prototype for sale at $425,000.
Visiting the Volo Car Museum (Click picture to enlarge)

| | |
| --- | --- |
| | |
| "Holy Chevrolet" Batman, is that our car? | Shorty Cyr and Joyce deciding which car to buy |
Date this Page Last Edited
06/19/2006