Eight Reunion of the USS Plymouth Rock
Charleston, SC
September 20-24
This Page Last Edited 01/14/2015
---
Reunion Review
The USS Plymouth Rock 2010 Reunion
Held in Charleston, SC— September 20-24
---
We all had a great time at the Charleston reunion. Our special thanks go the David and Rhonda Dortch for doing a great job in planning, organizing and carrying out all that was necessary for putting together this great reunion. They provided us with the opportunity to reunite with old shipmates, meet new ones. We had 63 Shipmates and guests in attendance for 2010. I do hope that we can all meet again for the 2012 reunion of the USS Plymouth Rock.
---
Shipmates:
Well we dropped anchor on September 20th, 2010 in Charleston, SC for 4 days of liberty. We were not disappointed! The weather, sights, food and liquid refreshment were abundant. It was a great time for all. It was that time when we could get together, share memories, look at pictures of once lean young men and remember shipmates who have passed.
Our next liberty is scheduled for September or October 2012. Location is yet to be determined, but I can assure you, Dave and Rhonda Dortsch, have already begun making inquiries. Dave and Rhonda have planned our last 2 reunions and have done a wonderful job.
The newsletter will keep you informed and if you couldn't make the Charleston liberty, maybe you can make the next one. Bill Provencal, Secretary/Webmaster, will keep you informed. Remember, you can always get the current scuttlebutt on www.ussplymouthrock.com.
See you in 2012
Tom Wagner
President
---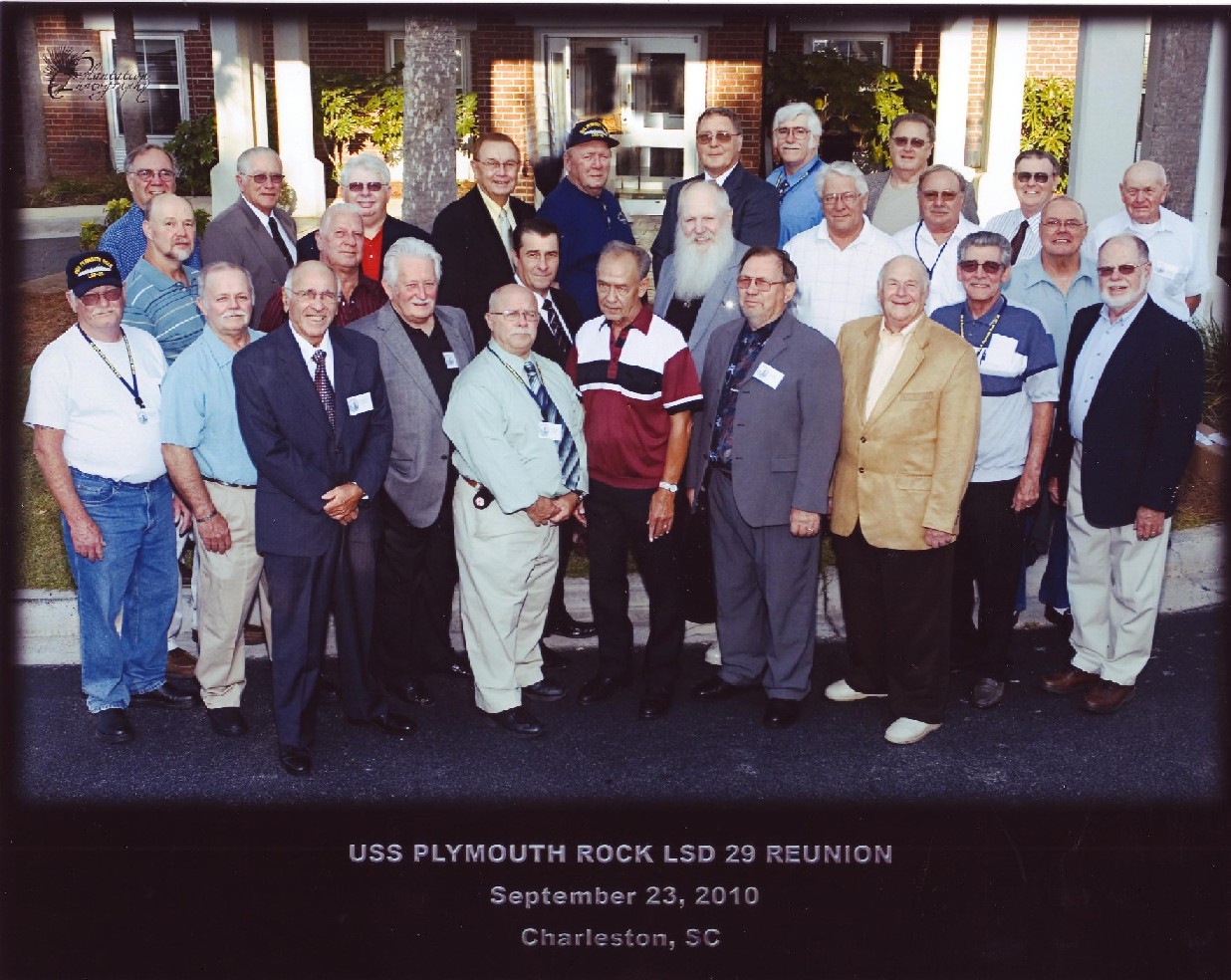 2010 Reunion Attendees

| | | |
| --- | --- | --- |
| Dale and Blanche Richardson | John Stull | Jack and Barbara Morton |
| David and Rhonda Dortch | Bill and Linda Provencal | Tom and Jackie Wagner |
| Roger and Ellen Lamay | George Bierce and Lisa Petersens | Richard and Hazel Hopper |
| Ron and Verna Dailey | Charles and Annie Allen | Jon and Kathy Czarnetski |
| Bruce and Karen Czarnetski | Don and Barbara Rhine | Seeley and Bernadette Jennings |
| James and Cyndi Freeman | Paul and Sheryl Mohawk | John and Kay Reed |
| Richard Sandlin and daughter Cindy Stout | Dennis and Joyce Cyr | Bob and Elaine Nichols |
| Norm and Bev. Jepson | Walt and Betty Hyatt | Chuck Larkin |
| Jack Rook | Mary Forton | Marguerite Eldridge |
| Richard Pratt | Robert and Barbara Warwick and Bonnie Johnson | Roger and Sally Betts |
| Bill and Lynn Haynie | Bill and Mary Ann Scott | Paul and Patricia Peraino |
| Jerry and Cassie Walker | | |
Day 1: After settling into our rooms at the Quality Inn, the reunion began with registration which turned out to be very busy for those of us working the tables in getting information updated for the ships Muster List, collecting dues, collecting money for the programs signed up for and having applications completed for new members. That evening we attended a Welcoming Buffet at the Point Grill to mingle with old shipmates and catch up on what had transpired since the last reunion. After the buffet it was back to the Hospitality Room for some cold beers and story telling.
Day 2: Most of us left for Patriots Point to tour the USS Yorktown, CV10. The Yorktown began life as the Bon Home Richard, and later renamed in honor of the first carrier Yorktown CV5, lost in the battle of Midway. The present Yorktown was commissioned in April 1943 and served in the Pacific offensive that led to victory in 1945. After a introduction of the ship we were free to roam where ever we wanted. Some went below decks to the living spaces, many of us went to the flight deck and bridge. We then had lunch in the Chief's mess on board the ship..
In the afternoon we boarded a bus for a narrated tour of old Charleston. This gave us a idea of where what was located if we returned to Charleston on our own. In the evening we retreated to the Hospitality Room for some beers and sea stories.
Day 3: We split up today, with some of us going to Fort Sumter, where the opening shots of the Civil War were fired on April 15, 1861. The rest of us went to Magnolia Plantation and Gardens where we did the garden walk and took a tram tour of former rice fields that have been converted to the exotic Audubon Swamp. We then had a guided tour of the Magnolia Plantation House. In the evening we had more beers and told more exaggerated sea stories of our times on the P Rock.
Day 4: We all boarded a bus for the former Charleston Navy Yard to visit the raised confederate submarine Hunley. The sub was raised in 2000 after having been submerged for over a century. The Hunley is housed in its 90,000 gallon conservation tank. Artifacts found during excavation of the submarine are also displayed. After visiting the Hunley, we then went to the Lone Sailor Memorial for a Memorial Service for those shipmates known to us who were no longer with us. That afternoon we had our Business Meeting where reports were given, we then discussed where and where and when our next reunion would be held, officers were elected and the meeting adjourned. In the evening we attended our Ships Banquet where we honored our three Plank Owners, Richard Sandlin, QMC retired, Richard Hopper, BTC retired and Robert Warwick MM2. A special presentation was given to David and Rhonda Dortch for their effort in putting this reunion together. Our guest speaker was Mike Lussier, curator of the American Military Museum in Charleston. He spoke about and showed a WWI Navy uniform and also showed a Navy enlisted flat hat. He had some other military coats and memorabilia from their museum. He also described some of the battle at Pearl Harbor and the Omaha Beach landing by Allied Forces on D-Day.
The following election of officers and appointments were made as follows: President-Tom Wagner; Vice President-David Dortch; Secretary-Bill Provencal, Treasurer-Paul Mohawk, Reunion Coordinators-David and Rhonda Dortch; Storekeeper-Denis (Shorty) Cyr and Ships Historian-Harry Andersen.
Reunion for 2012. Two possibilities were brought forward: A Ships Cruise for 5 days to be held in early October or a reunion at Valley Forge which would be held in late September.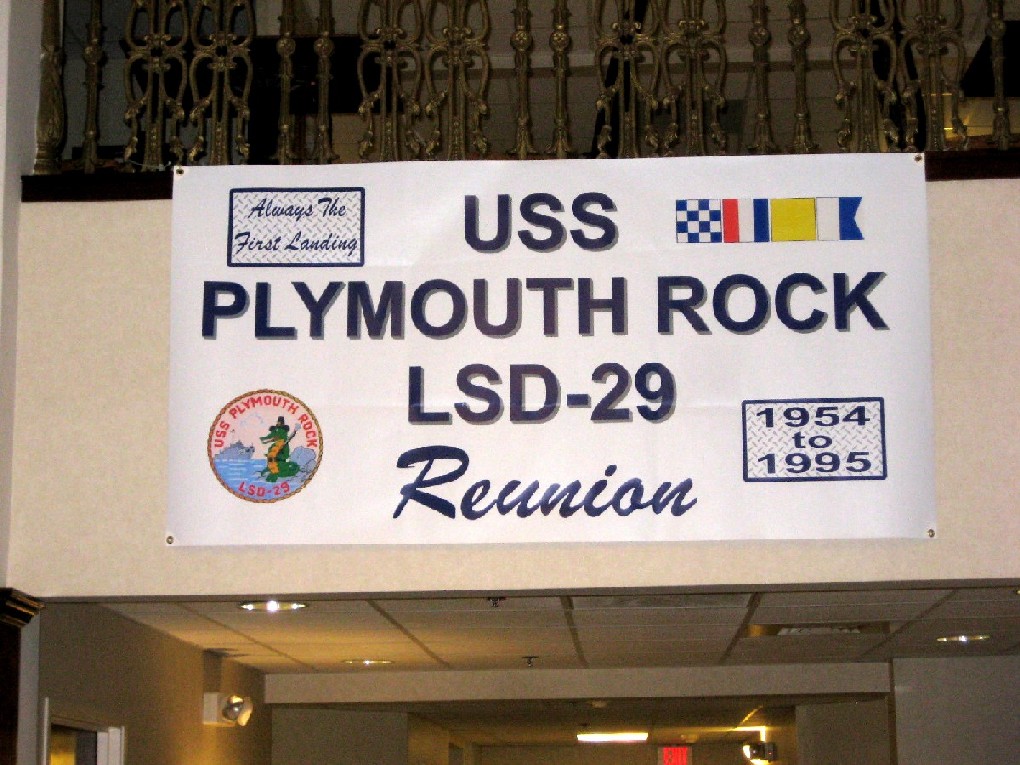 | | |
| --- | --- |
| | |
| Rhonda Dortch busy at work registering | President Tom trying to figure out his camera! |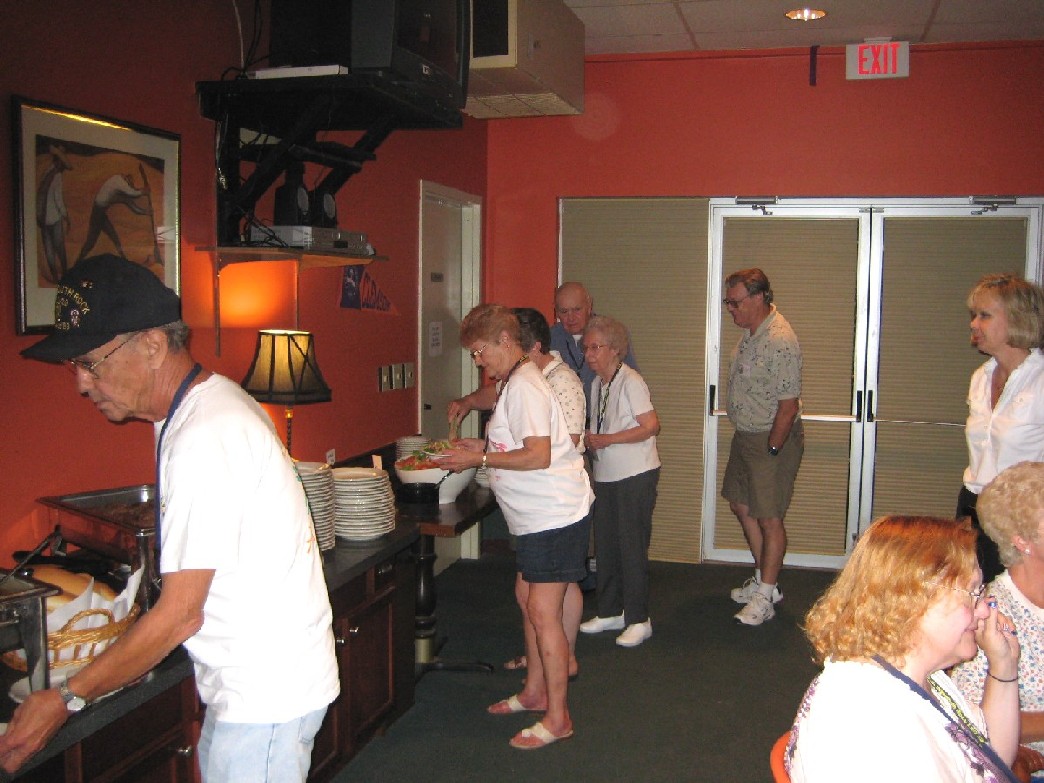 The chow hounds, Paul and Sheryl Mohawk, Richard and Hazel Hopper and Don Rhine's
| | |
| --- | --- |
| | |
| The 3 Plank Owners, Bob Warwick, Richard Sandlin and Richard Hopper | Visiting Fort Sumter |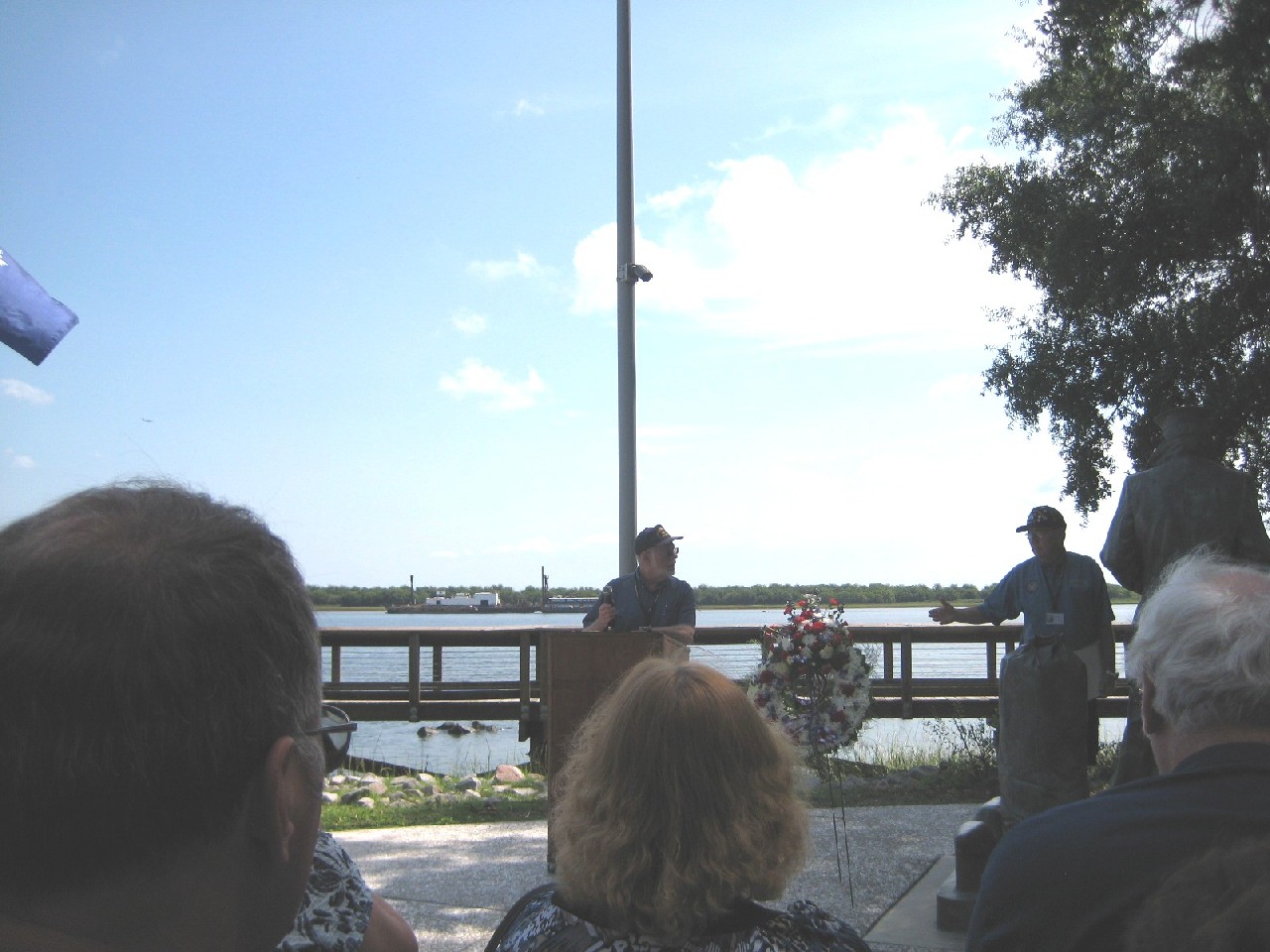 Bill Provencal getting ready to read the names of our fallen shipmates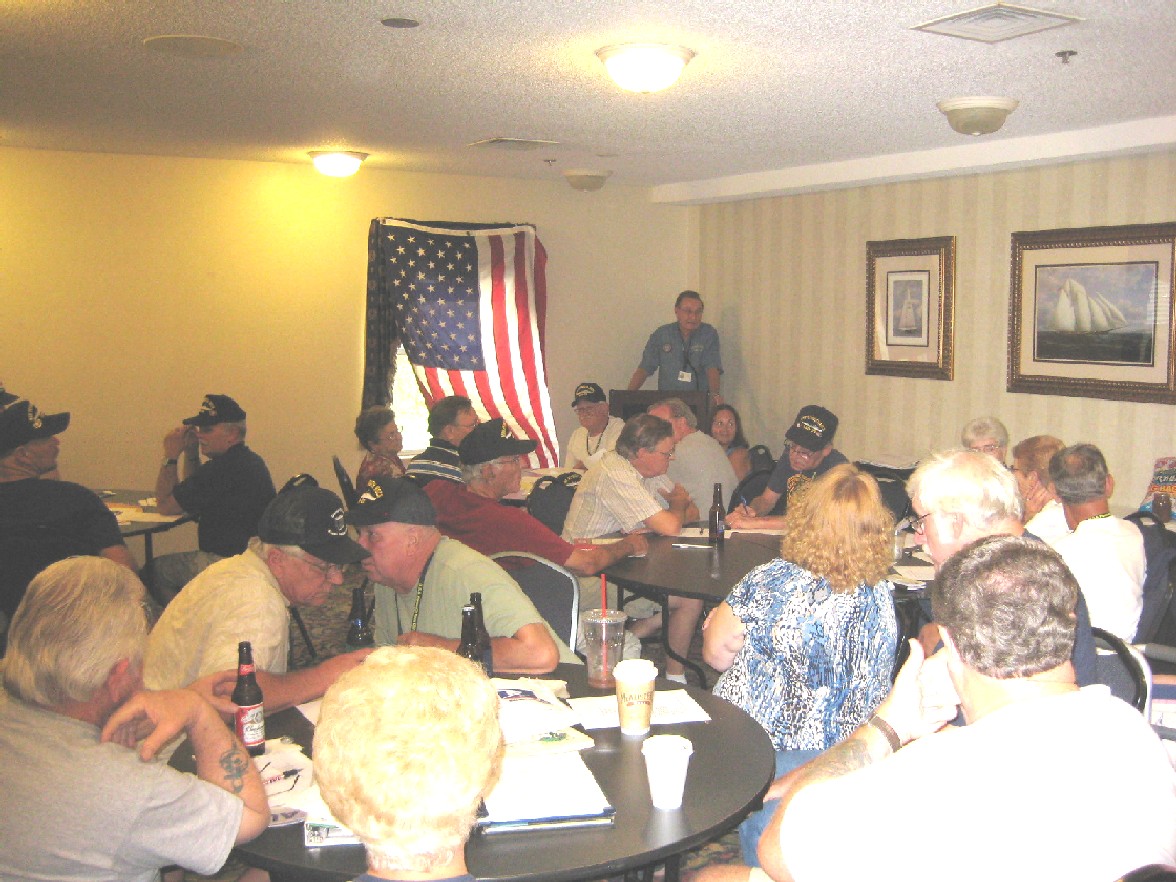 President Tom Wagner conducting the Business Meeting
| | |
| --- | --- |
| | |
| Our guest speaker was Mike Lussier, curator of the American Military Museum in Charleston | The Ships Banquet |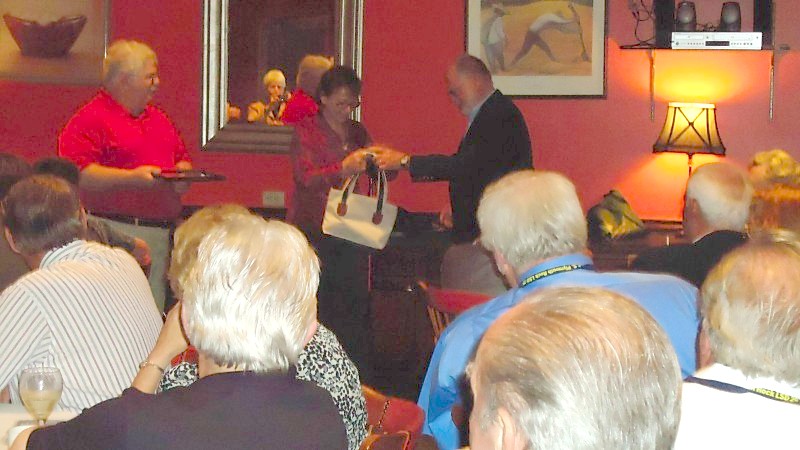 Dave and Rhonda Dortch receiving tokens of our appreciation for a great 2010 reunion from Bill Provencal