A Chronological History of the USS Plymouth Rock (LSD29)

This Page Last Edited 01/14/2015
1954 - The ship was commissioned on 29 November, 1954, The first Commanding Officer was CDR Bontecou. The ship underwent shakedown training and sailed to her homeport of Norfolk, Va

1 955 - During the summer, PLYMOUTH ROCK participated in Operation SUNEX, transporting men and equipment to early warning radar sites. There was a Change of Command in November: CDR M. Harvey assumed command.

1956 - Two amphibious exercises, LANTPHIBEX 1-55 and TRALEX 1-56 were the fleet proving grounds for PLYMOUTH ROCK' s readiness. In March 1956, PLYMOUTH ROCK departed for a Med. deployment.

1957 - In February PLYMOUTH ROCK departed for Guantanamo Bay and refresher training. In March, the ship headed south again and participated in SULEX 3-57 AND CARIBEX 1-57. In July and August the ship was again resupplying the Early Warning Line with men and material. Capt. Lautaret took command.

1958 - In March, PLYMOUTH ROCK participated in LANTPHIBEX 1-58. In April entered Norfolk Naval Shipyard, where a section of her flight deck was removed to permit transporting of a 600 ton Mine Planter (YNP3) to Turkey

1959 - In June ship commenced routine overhaul in Philadelphia Naval Shipyard. In December newly installed anti-submarine warfare equipment was tested in Florida and Bermuda area. In July Capt. A. L. Redon assumed command.

1960 - PLYMOUTH ROCK participated in Operation AMIGO. In August Capt. G. Simmons assumed command.

1961 - Ship made several administrative lifts between Norfolk and San Juan. In summer and early fall she participated in Project MERCURY, Project ASROS and PHIBTRALEX 4-61

1962 - In mid October, she was deployed to the Caribbean and became a unit of the "ATTACK GROUP' during the Cuban Missile Crisis. Capt. M. J. Prince assumed command.

1963 - The ship visited Nassau, Bahamas, West Indies. On May 7, PLYMOUTH ROCK deployed for a 5 month tour with the Sixth Fleet. In July Capt. J. R. Tenanty assumed command.

1964 - Ship participated in Operation STEELSPIKE I, of the coast of Spain. In July Capt. T. P. Dankworth assumed command.

1965- Capt. R. F. Woodal assumed command and ship again entered the yards for overhaul.

1966 - Early in year, ship played a vital role in the recovery of lost weapons off Palomares, Spain, delivering two deep diving sub's ALVIN and ALUMINAUT. Later participated in hurricane relief operations in Haiti. In September Capt. R. G. Bagby assumed command.

1967 - During this year, she distinguished herself by winning the Battle Efficiency "E", Amphibious Assault Readiness Award and other awards. In November, Capt. E. P. Smith assumed command

1968 - She moved from Amphibious Sqdr. TEN to Amphibious Sqdr. EIGHT

1969 - Capt. N. J. Pressler to command in January. Participated in Project TEKTITE 1. In summer she deployed to the North Atlantic training 200 midshipmen. Visited Portsmouth England and Hamburg, Germany

1970 - Capt. E. H Kiehl assumed command in January. She returned to the Carribean with the 3rd LAAM Batt. USMC. In June, participated in LOVE SONG, a NATO exercise. This was followed by another Carribean deployment.

1971 - January again saw the ROCK in the Caribbean. In the summer CDR C. W. Cross to command.

1972 - In January ship participated in operation SNOWY BLEACH, In late February ship was deployed for six months duty in the Mediterranean.

1973 - In January CDR R. S. Betts assumed command. The ship then steamed to the Carribean for CARIB 2-72, followed by EXOTIC DANCER VI. In July the ROCK was awarded the Battle Efficiency "E".

1974 - PLYMOUTH ROCK entered shipyard in what became two yard overhauls. In May out of the yards to participate in SOLID SHIELD. Overhaul resumed in June. Ship then participated in North Atlantic exercise to evaluate the AV8 Harrier aircraft. CDR J. J. Larson Assumed command.

1975 -PLYMOUTH ROCK returned to Little Creek. In the spring, participated in another SOLID SHIELD operation. In July entered yard in Baltimore, MD

1976 - Entire year spent in shipyard as result of a labor strike.
1977 - CDR W. A. Herman assumed command in January. Participated in AMPHIBREFTRA. Ship deployed to the Mediterranean for remainder of year.

1978 - In July ship sailed for the Mediterranean. CDR R. K. Barr assumed command in Naples, Italy. The "med" cruise was followed immediately with extensive operations in the North Atlantic.

1979 - In October the PLYMOUTH ROCK headed for Bermuda to install a CNO special interest project. A Meritorious Unit Commendation was earned for her participation in operation REINFORCEX. The ship completed the year by earning the Humanitarian Service Medal for her participation in a Disaster Relief mission in Jamaica.

1980 - In March the ship entered the shipyards in Portsmouth, Va., then transferred to Newport News Shipyard for additional repairs. CDR D. E. Larison assumed command on 2 December,

1981 - The ship deployed for South America as a participant in UNITAS XIII. CDR A. B. Moser assumed command in August.

1982 - In April the ship deployed to the Carribean as a participant in exercise OCEAN VENTURE. In August the ship was awarded a second Meritorious Unit Commendation as a result of the ships performance while deployed in South America the previous year.

1983 - The ship began 1983 at Little Creek. Prior to the start of the year she had received orders to begin preparation for decommissioning. The ship unloaded its ammo at the Carny Ammunition Anchorage. On April 27, CDR M. W. Kenyon assumed command. By mid June the crew was reduced to it's required 50% manning. On August 15, the crew moved off the ship into Barnum Hall Barracks at NAB Little Creek, Va. A team from Global Associates arrived aboard and the closeout of ship's spaces commenced. On September 30, 1983, at 1300 hours at NAB Little Creek, the commissioning pennant was hauled down and given the Commanding Officer, thereby retiring the PLYMOUTH ROCK from the fleet.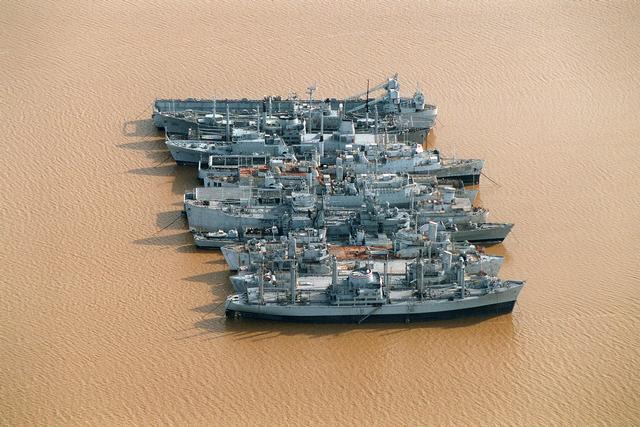 One of the last pictures of the USS Plymouth Rock taken in James River, VA on 28 January 1996. The Plymouth Rock is the first LSD in line from the top, next to her is the USS Donner (LSD20) and the Fort Snelling (LSD30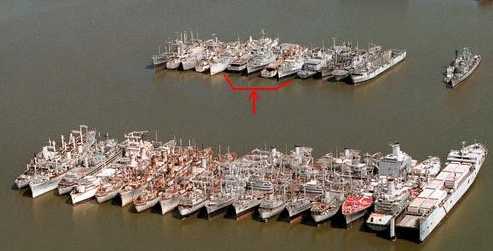 Picture taken of ships in the James River, same as above.