The Official Website of the USS Plymouth Rock Ships Association
USS Plymouth Rock (LSD29)
Website Last Updated April 20, 2019
Ship's Motto: Always the First Landing
USS Plymouth Rock International Call Sign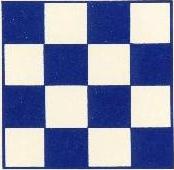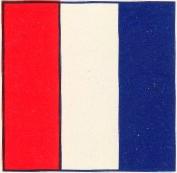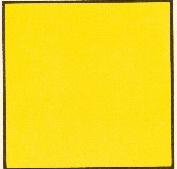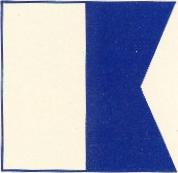 November-Tango-Quebec-Alpha

---
Notice Newsletter 51.pdf
Click here to access the latest newsletter Newsletter 51 (September - December, 2018) in PDF format.
---
Since we are no longer sending out a newslettter, I thought I would use the website as a tool for communicating to all of you.
Have you ever noticed the honor guard pays meticulous attention to correctly folding the United States of America Flag 13 times? You probably thought it was to symbolize the original 13 colonies, but we learn something new every day!
The 1st fold of the flag is a symbol of life.
The 2nd fold is a symbol of the belief in eternal life.
The 3rd fold is made in honor and remembrance of the veterans departing the ranks who gave a portion of their lives for the defense of the country to attain peace throughout the world.
The 4th fold represents the weaker nature, for as American citizens trusting in God, it is to Him we turn in times of peace as well as in time of war for His divine guidance.
The 5th fold is a tribute to the country, for in the words of Stephen Decatur, 'Our Country, in dealing with other countries, may she always be right; but it is still our country, right or wrong.'
The 6th fold is for where people's hearts lie. It is with their heart that they pledge allegiance to the flag of the United States of America , and the Republic for which it stands, one Nation under God, indivisible, with Liberty and Justice for all.
The 7th fold is a tribute to its Armed Forces, for it is through the Armed Forces that they protect their country and their flag against all her enemies, whether they be found within or without the boundaries of their republic.
The 8th fold is a tribute to the one who entered into the valley of the shadow of death, that we might see the light of day.
The 9th fold is a tribute to womanhood, and Mothers. For it has been through their faith, their love, loyalty and devotion that the character of the men and women who have made this country great has been molded.
The 10th fold is a tribute to the father, for he, too, has given his sons and daughters for the defense of their country since they were first born.
The 11th fold represents the lower portion of the seal of King David and King Solomon and glorifies in the Hebrews eyes, the God of Abraham, Isaac and Jacob.
The 12th fold represents an emblem of eternity and glorifies, in the Christians eyes, God the Father, the Son and Holy Spirit.
The 13th fold, or when the flag is completely folded, the stars are uppermost reminding them of their Nations motto, 'In God We Trust.'
After the flag is completely folded and tucked in, it takes on the appearance of a cocked hat, ever reminding us of the soldiers who served under General George Washington, and the Sailors and Marines who served under Captain John Paul Jones, who were followed by their comrades and shipmates in the Armed Forces of the United States, preserving for them the rights, privileges and freedoms they enjoy today.
Submited by Shorty Cyr, BM3
Skip Sanders who is associated with the Amphibious Ships Reunion group called me recently to see who might be interested in attending their reunion in Buffalo, NY in September. If you are interested in attending I would suggest that you call Skip at 412-367-1376 for more information.
We will continue to maintain the website for another year in the event that someone of there might be interested in picking it up. If you are interested in doing this contact me Bill Provencal at 603-435-8703.
Recently a letter was sent to all dues paying members in reference to what should be done with the Plymouth Rock Association based on the lack of response/interest in the Association. I thought that I should share with you what we wrote. You may click here to see the contents of the letter and if you care to respond please feel free to do so. Click here for the letter.
Video from WAVY, Norfolk, Va of USS P.Rock entering port. Click here and then Sign In, in upper right corner Plymouth Rock 1981
---
50% Liquidation Sale on Ship Store Items


Inventory as of 2/21/201

9

Shorty Cyr, our Storekeeper is liquidating the Association's inventory. All items have been discounted by 50%. Once items have been sold, we will not restock, so that T-Shirt you have been thinking about, buy it now, you will not find it cheaper elsewhere.

HATS 0 in stock $7.50
SWEAT SHIRTS 0 in stock
SHIP PATCHES 14 in stock $4.35
MUGS 17 in stock $15.00

HAT PINS 128 in stock $2.00
T SHIRTS 8 in stock 4L, 1 XL, 3 XXL, All sizes $11.00

BUMPER STICKER 0 in stock
SHOULDER PATCH 0 in stock, $7.50
T--SHIRT WITH FLAG & SAYING ON BACK 2 in stock , 2 XL $11.00

NOTE: All prices include shipping, price shown reflects 50% discount.

To purchase items, send check made out to USS Plymouth Rock Association, include list of what you want, size if applicable and your name and address. Mail to Dennis O. Cyr, 119 Pinecrest Drive, Waterbury, CT 06708. Dennis phone number is 203-753-6220, shortybm3@yahoo.com

To

view all of the items in the Ship Store go to the ships website at

ussplymouthrock.com

, select Ships Store Link
<![if !supportLineBreakNewLine]>
<![endif]>


Use Google to Search the Plymouth Rock Website
| | |
| --- | --- |
| | USS Plymouth Rock Website |

Plymouth MA landing site of the original pilgrims and the Plymouth Rock
Photo courtesy of Jim and Cindy Freeman
USS Plymouth Rock (LSD-29), 1954-1995
USS Plymouth Rock, a 11,270-ton Thomaston class dock landing ship, was built at Pascagoula, Mississippi. Commissioned on November 29, 1954, she was assigned to the Atlantic Fleet. Over the next three decades, Plymouth Rock deployed regularly to the Caribbean area, made several cruises with the Sixth Fleet in the Mediterranean, and occasionally visited northern Europe and South America. She also participated in Arctic Distant Early Warning (DEW) Line support operations in 1955 and 1957, a Project "Mercury" space flight support mission in 1961, the Cuban Missile Crisis blockade in 1962, the Palomares nuclear weapons recovery effort in 1966, weapons development efforts, disaster relief undertakings, and a large number of Amphibious exercises. USS Plymouth Rock was decommissioned in September 1983. Following a decade in the Reserve Fleet, she was sold for scrapping in September 1995.
LSD
(Dock Landing Ship)
Image below is the USS Ashland (LSD1). Photo contributed by Norm Jepson, BMSN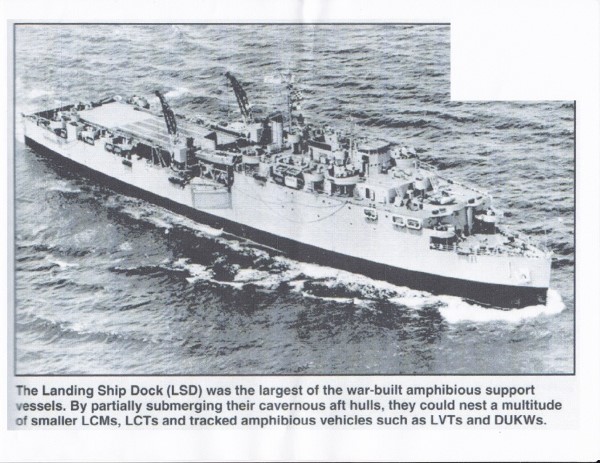 This hybrid sea going vessel was initially conceived in November, 1941. As the design progressed and developed, the Tank Landing Craft (TLC) was re-designated an Artillery Transport, Mechanized (APM) - 8 vessels (APM 1-8), were authorized for the U. S. Navy and 7 vessels - (BAPM 1-7) were ordered for the Royal Navy under the Lend Lease Act. Before actual construction of these 15 vessels began, the designator was again changed, this time, to Landing Ship, Dock (LSD). The Navy twice expanded orders of the design during WWII - first to total 19 vessels, then to total 27 LSDs.
Landing Ship, Docks (LSDs) were designed to transport loaded landing craft, amphibious vehicles and troops into an amphibious landing area; ballast down to flood their well decks; lower the stern gate to the sea, and disembark their craft and vehicles for the assault on a hostile beach. Once a beachhead was established, they acted as offshore repair docks for damaged ships, craft and vehicles up to Landing Ship Medium (LSM) and Landing Ship Infantry (LSI) sizes. In at least one reported case, the bow of a Destroyer Escort (DE) was docked for emergency repairs. Equipped with their long dry docks; shipfitter's shop; machine shop; and a carpentry shop; these vessels were able to handle extensive repairs at the scene of the assault. The first 27 of the LSD design were considered prototypes. As soon as one LSD was launched, commissioned and tested in actual combat conditions, successive launchings of the LSDs reflected the latest improvements in armament and transport capacity with their "super" or "portable" prefabricated decks. The end result, is that no two LSDs of the World War II design are exactly alike!
The current Harper's Ferry Class (LSD-49 thru LSD 52) can deliver up to two LCAC (Landing Craft, Air Cushion) or a larger number of conventional landing craft, plus transport some 402 Marines, as well as an additional short distance transport of 102 more. There are also two other classes currently in operation; Whidbey Island LSD-41 thru LSD-48, and Anchorage class, LSD-36 thru LSD40. The Whidbey Island class can carry up to 4 LCAC while the others can only carry two.

A typical ARG (Amphibious Ready Group) of Marines embarks an LHA or LHD-Amphibious Assault Ship, an LSD-Dock Landing Ship, and an LPH-Amphibious Transport Dock
.

Number of visits to this website


here
This Website was designed and is maintained by Web Petty Officer
Bill Provencal
37 South Main Street
Pittsfield, NH 03263


at billinp@metrocast.net

billie